Sgt. Cecil Stanley Silvester, No 103 Sqn RAF
Cecil Silvester was born in 1898 in Bury St Edmunds, Suffolk. He joined the RFC probably in 1916.

In 1917 he undertook pilot training as an NCO on BE2D's and later on DH6's at No 5 TDS Easton-on-the-Hill.

He joined 103 Sqn at the end of Sep 1918 and made his first flight on 1 Oct 1918 with Lt. Pitot. He went on to fly eight missions on DH9's before being shot down.

Sgt. Silvester during pilot training at Easton-on-the-Hill, near Stamford, 1917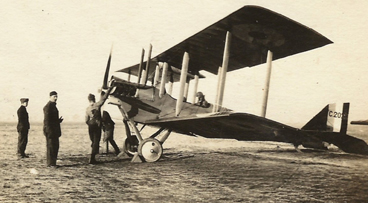 Sgt. Silvester in a DH6, probably at No 5 TDS Easton-on-the-Hill
On 2 Oct his first mission was to bomb Fives junction (Lille) flying with 2nd Lt. Lisle as his observer/gunner. He flew on subsequent missions with 2nd Lt. Lansdale, on 14 and 18 Oct bombing Tournai, 23 Oct Leuze and 27 Oct Ath.
On 29 Oct, he collected and delivered a new DH9 aircraft serial H4229 for the Squadron (photographed later below).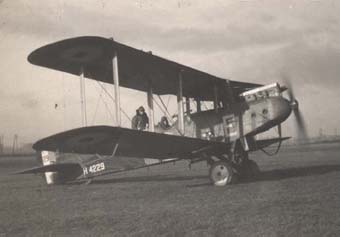 DH9 serial H4229 (© airwar1.org.uk)
His last mission was on 30 Oct. His Patrol of seven aircraft, led by Captain Dodds, left at 0750 to bomb Ath station. The patrol approached the target at 14,000 feet and released their bombs. The Sqn diary records that Silvester and Lansdale were "last seen at 2000' over Tournai flying West unattacked". They were Possibly experiencing engine trouble - a common occurence with the DH9. They were shot down by anti-aircraft fire and taken prisoner; Tournai was then only just behind the German lines. Sgt. Silvester was taken to a German field hospital where he received treatment for serious shrapnel damage to his knee. He later told his son that he was eternally grateful to the skill of the German surgeon who operated and saved his leg. Sgt. Silvester stayed in hospital for some while after allied forces took over the hospital (two or three days after the war ended).
In the Second World War Cecil Silvester joined the RAF Volunteer Reserve, eventually being demobilised in 1945 as a Squadron Leader.

Cecil Silvester photographed in 1941 as a Flt Lt RAFVR
Photos from the Silvester family unless specified otherwise